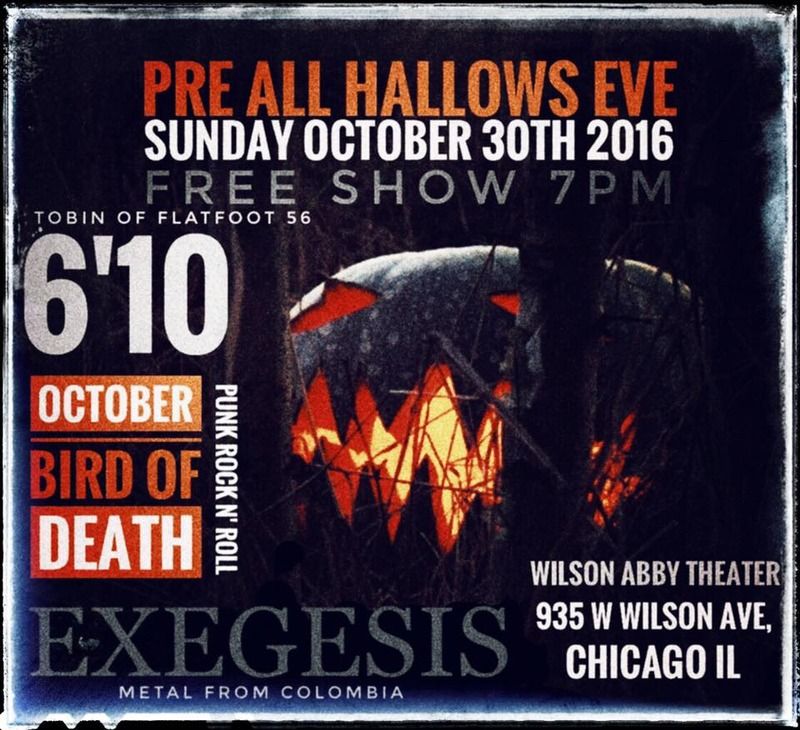 This
Wilson Abbey
show, as I understand it, was originally put together for the planned release of
October Bird of Death
's new recording but since the recording has been delayed, it was show on the night before Halloween so costumes were encouraged.
https://youtu.be/sD4D7Xiqmms
Exegesis
was added last minute to open this show. The original opener was unavailable for some reason or another so instead some great metal from the Colombians who make their home at JPUSA.
https://youtu.be/0ZUruVkf7xY
Set List
1. This Is Our Lives
2. Goons
3. Uproar
4. Fire In Those Eyes
5. Shed The Grave
6. Art Deco Skull Fracture
7. Hell To Pay
8. Death Made Its Offer
October Bird Of Death
played second. They had some creative costumes. It was a great set. Even an axe was broken.
The headliner for the night was
6'10
. Somehow, I lost the footage I got of their set so it will not be included here. My apologies. There is footage that shows the presence of all the members in between sets with their costumes, however.
https://youtu.be/PH8i2WlMAzA
Filmed LIVE at Wilson Abbey in Uptown Chicago, Illinois on Sunday, October 30th, 2016 using an JVC HDD Everio. Edited using Final Cut Pro on a Mac Mini.
On the DVD archive for this show (anyone interested in these please contact me), due to missing the
6'10
set, I included the following LIVE collection of footage from
October Bird Of Death
. It was an idea talked about a few months back but all the pieces to make it happen have now finally been recorded so here it is for you to enjoy!
https://youtu.be/cLcTnojlojs
Filmed & edited by Joel A. Swanson
aTigerRAWkFilm.blogspot.com