Audiofeed
occured as usual over the Fourth of July weekend & video from the soggy, good time will be available in the not too distant future. We returned a bit earlier than usual due to the soggy conditions & arrived back in Chicago in the wee hours of Monday morning...the Fourth. After getting some good rest, we shot fireworks with friends (also video will come) then went back to life as usual.
While at
Audiofeed
, we talked with our friends Amanda & Andreas about a show we would be going to on Thursday in Aurora - The City Of Lights. It turned out they too would be going to see
The Hollywood Vampires
-
Alice Cooper
,
Johnny Depp
, &
Joe Perry
. It was an interesting show...it was outdoors so thankfully the rain had passed earlier in the evening as we drove from Chicago to Aurora. The set featured a lot of covers of dead artists, some of whom were another incarnation of Hollywood Vampires & it sounded like
Alice Cooper
was the remaining living "Vampire." I captured the song "Dead Drunk Friends" on video but the ending was cut off due to insufficient space on my phone. I was glad we saw them when we did as later in the week
Joe Perry
had some sort of medical emergency (heart attack? exhaustion?) & had to leave the stage as well as the tour (though I see he will return to the stage tonight!).
https://youtu.be/I6OCiVS3qh4
After the show we got pizza at a place called
Doughballs
. It was good eating & a funny name. It was a good time to hang a few days after the festival with friends from the festival. Last year we went to their home for a show so maybe this becomes a tradition to rock with the Larsen's after
Audiofeed
!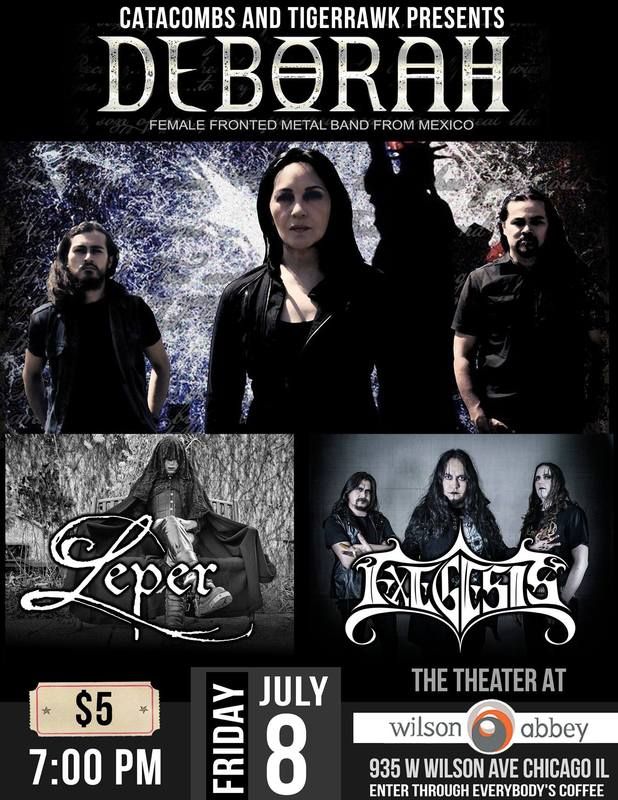 https://youtu.be/wn3_pJnwdxU
Friday night was another
Catacombs
show at
Wilson Abbey
. This show had some international flair.
Exegesis
opened. They currently live at
JPUSA
in Chicago but are from Colombia.
Leper
-
JPUSA
in Chicago had Ravn playing bass originally from Norway. The headliner was
Deborah
from Mexico on tour through the United States.
Unfortunately, I was running out of hard drive space on my camera I used at
Audiofeed
- JVC HDD Everio. I brought my Sony HD Bloggie but there isn't a lot of space on that either. My phone was also filled to capacity. Due to these unfortunate conditions I missed the last song of
Deborah
's set along with Miguel speaking as well as the last half of
Leper
's set. I got all of the
Exegesis
set though. The night went well overall.
Exegesis
https://youtu.be/Xfi0Ns_gFLI
Leper
https://youtu.be/mFmfe48YF7k
Deborah
https://youtu.be/O8buoZmul60
On Saturday night, we decided to go see old friends,
The Castros
, play at
Uncommon Ground
. We missed the opening act due to my mistake of thinking it was at the other venue of the same name. We went in, sat down, then a girl started playing some good tunes. I texted Marco Castro & his response made me realize that the opening act was a guy so we got up & awkwardly left somewhat embarrassed then headed to the proper venue. We arrived & Marco was dealing with an incident that someone had backed into the vehicle they had rented to make the trip from Ohio. We sat down, ordered some very good food & got to listen to the folksy music of
The Castros
. I captured "Pumpkin Pie" because of the performance & Marco's antics. Also, it's a good song.
https://youtu.be/6Ie9NVzohVE
Footage filmed using a JVC HDD Everio, Sony HD Bloggie, & iPhone 6. It was edited using Final Cut Pro on a Mac Mini.
All footage filmed & edited by Joel A. Swanson