I was searching to repost the blog I wrote on this show only to realize that I failed to ever do so. This is a shame because this was a very special show for me so I will reminisce a blog about it now.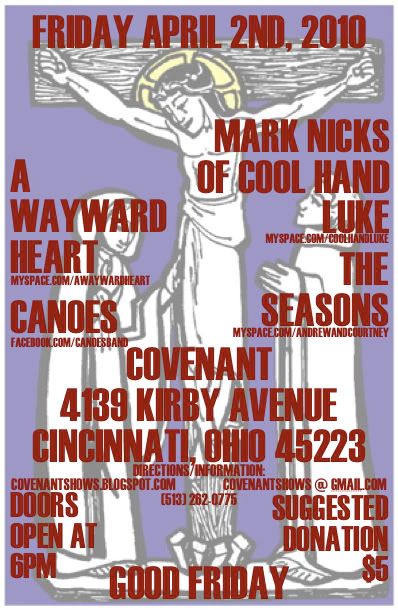 I am going to link each set first then write the blog:
Mark Nicks of
Cool Hand Luke
https://www.youtube.com/playlist?list=PL05DBF37F9CA2CE05
James Masters & Josh Klaine
https://www.youtube.com/playlist?list=PLF1155DA8C12122C3
Canoes
https://www.youtube.com/playlist?list=PLBBDCE7E4A0FD0FCE
I was contacted I believe at the time by Brandy Nicks, the wife of Mark Nicks from the band Cool Hand Luke about doing a show. The date turned out to be Good Friday. I received permission from Covenant to put the show on then worked out a few local openers before having an interesting conversation with Mark Nicks about an idea he had for the show. He told me about an album that would be "Of Man" based on the biblical account of the Good Friday events so he wanted to do what I would call a storytellers type show playing some songs from the new album & tell about the idea.
I explained the idea to the other bands who were on board as well. I put together a flyer for it & decided that the show would be donation based instead of charging a cover. I also felt that the sanctuary of Covenant made more sense for this show than the usual room so that's where it happened.
So came Good Friday - 04.02.2010. It was a nice day, weather wise which was a positive...people usually are more likely to venture out on good weather days. The band I planned to be first never showed up so we proceeded with the next band - Canoes. This was the only chance I had to work with them even though I was friends with most of the guys. Their sound was more pop oriented & just didn't usually fit with a lot of the bands I worked with over the years but I'm glad they came to play this one. There were a couple strange technical difficulties during the set though.
Next up, two guys named James Masters & Josh Klaine played a worship set. We were connected to many of the same people in the community so it worked out nicely to have them on the set. They also pretty well got the mood set for the rest of the night with the songs that were played for this set.
Mark Nicks took the floor next to play his songs & tell the story of each one as well as the Gospel message of Good Friday. On a spiritual level, there was something different about this show than usual & it felt the folks who showed up had a purpose for being there. I felt a lot of joy from this show & had a good connection with the people who came out. Other than a band not showing up, the night was all I could hope it to be. It felt like God showed up in a tangible way. I firmly believe God is always there but this was a night that God was felt in a different way than usual. It was RAD!
On this Good Friday six years later...I remember this night still as being one of my favorite shows I got to have a small part in. If you have time to watch the set, please do. I certainly will!
Since "
Of Man
" released a year later, I have enjoyed listening to it every year on our about Good Friday. Mark Nicks has put it on
Noisetrade
for free!
https://noisetrade.com/coolhandluke/of-man